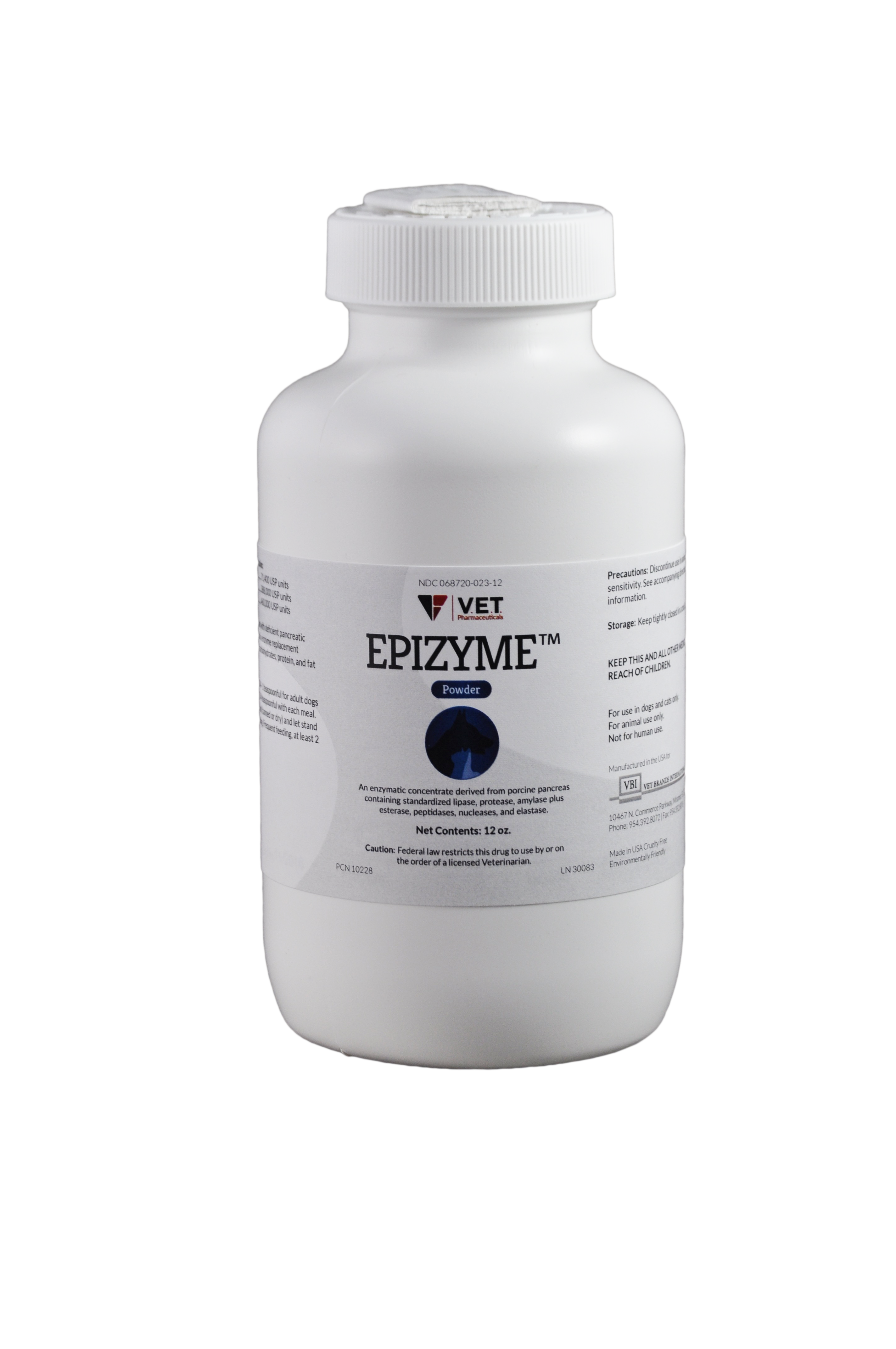 EPIZYME PANCREATIN POWDER ℞
Pancreatic enzymes are an integral component in the treatment of Exocrine Pancreatic Insufficiency (EPI) in dogs and cats. Epizyme has been prescribed as a successful component in the treatment of EPI for well over decade.
Epizyme is manufactured in the U.S.A., acetone free, to FDA quality standards.
Epizyme is less expensive than comparable products making treatment more affordable to a larger client base.
Epizyme production is our primary focus which provides practitioners and their clients with a consistent, reliable source of medication for their pets.
Available in 4 ounce, 8 ounce, and 12 ounce bottles.
POTASSIUM CITRATE
Potassium Citrate is used to aid in maintaining urinary pH by alkalinizing the urine making it less acidic. K-CIT-V is used as a supplement in cases of calcium oxalate stone formation. K-CIT-V will not dissolve existing calcium oxalate stones nor does it prevent the formation of new stones. However, supplementation with K-CIT-V helps to create an alkaline urine, an environment in which calcium oxalate stones have difficulty forming. 
K-CIT-V is the first chewable potassium citrate supplement designed specifically for the veterinary market.
K-CIT-V is given free choice as a treat or crumbled and mixed with the animal's food making administration and compliance easier.
K-CIT-V is available in 3 forms- Standard K-CIT-V, K-CIT-V with Cranberry Extract and K-CIT-V plus Cranberry Extract granules for dogs and cats.
Available in 100 count bottles (artificial beef flavored).
Available in 300 gram granule tub (artificial chicken flavored).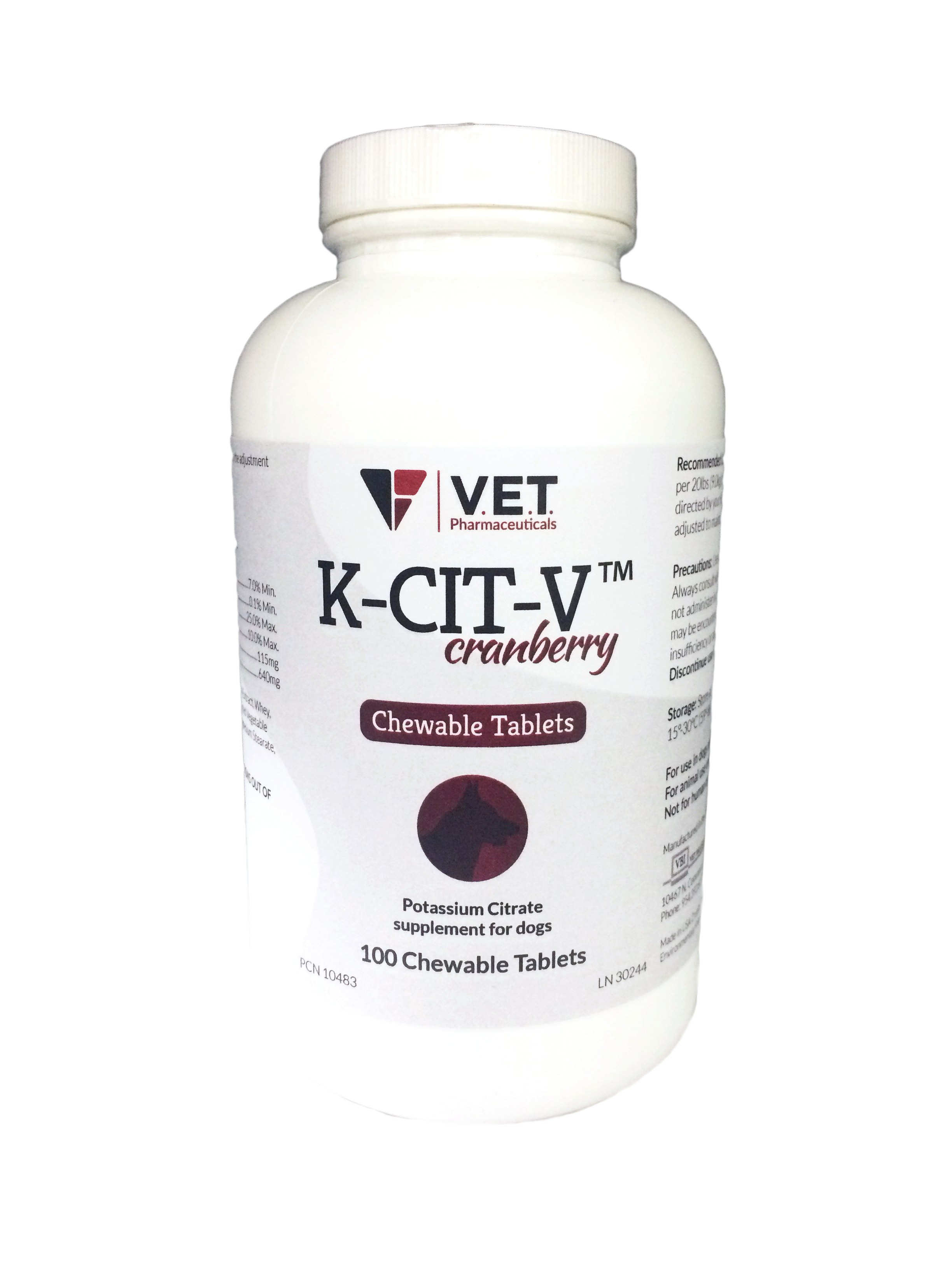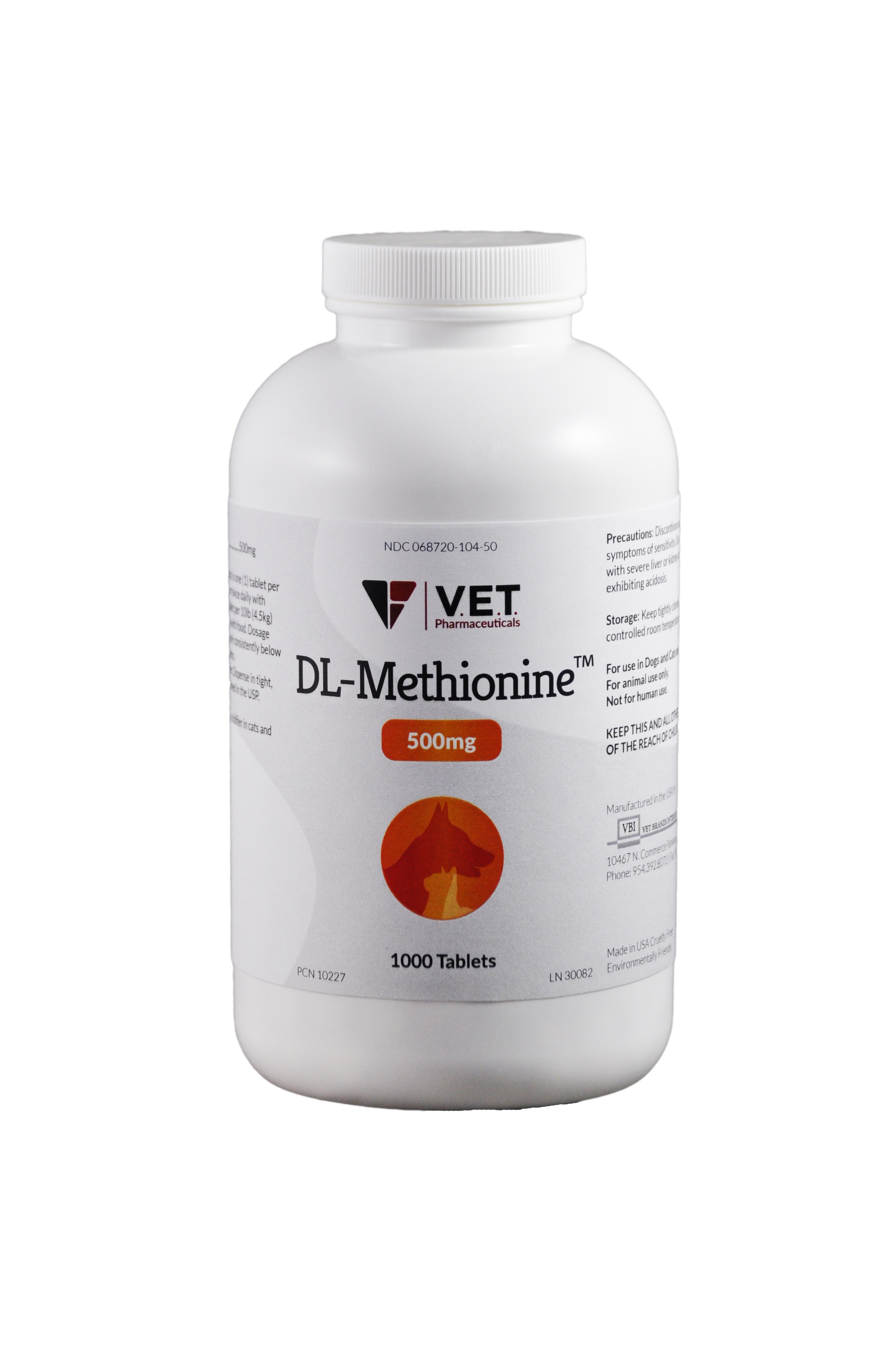 DL-METHIONINE
DL Methionine is most commonly used as a urinary acidifier. V.E.T. Pharmaceuticals DL Methionine hard tablets provide a supplement option in cases where urinary acidification is desired. DL Methionine is not recommended for use in kittens.
Available in both 200 mg and 500 mg strengths for dosage flexibility.
Available in 150 count and 1000 count bottles for inventory flexibility.
May provide an option to acidifying diets.
PHYTONADIONE SUPPLEMENT
Vitamin K1 (Phytonadione) is often used as a follow up supplement in cases of coumarin based rodenticide poisoning in dogs and cats. V.E.T. Pharmaceuticals artificial beef flavored Vitamin K1 chewable's can be sent home with the client after initial diagnosis and treatment has been provided in the clinic.
Highly palatable chewable presentation aids in compliance.
Available in both 25 mg and 50 mg chewable tablets for dosage flexibility.
50 mg chewable tablets allow larger dogs to be supplemented with fewer tablets.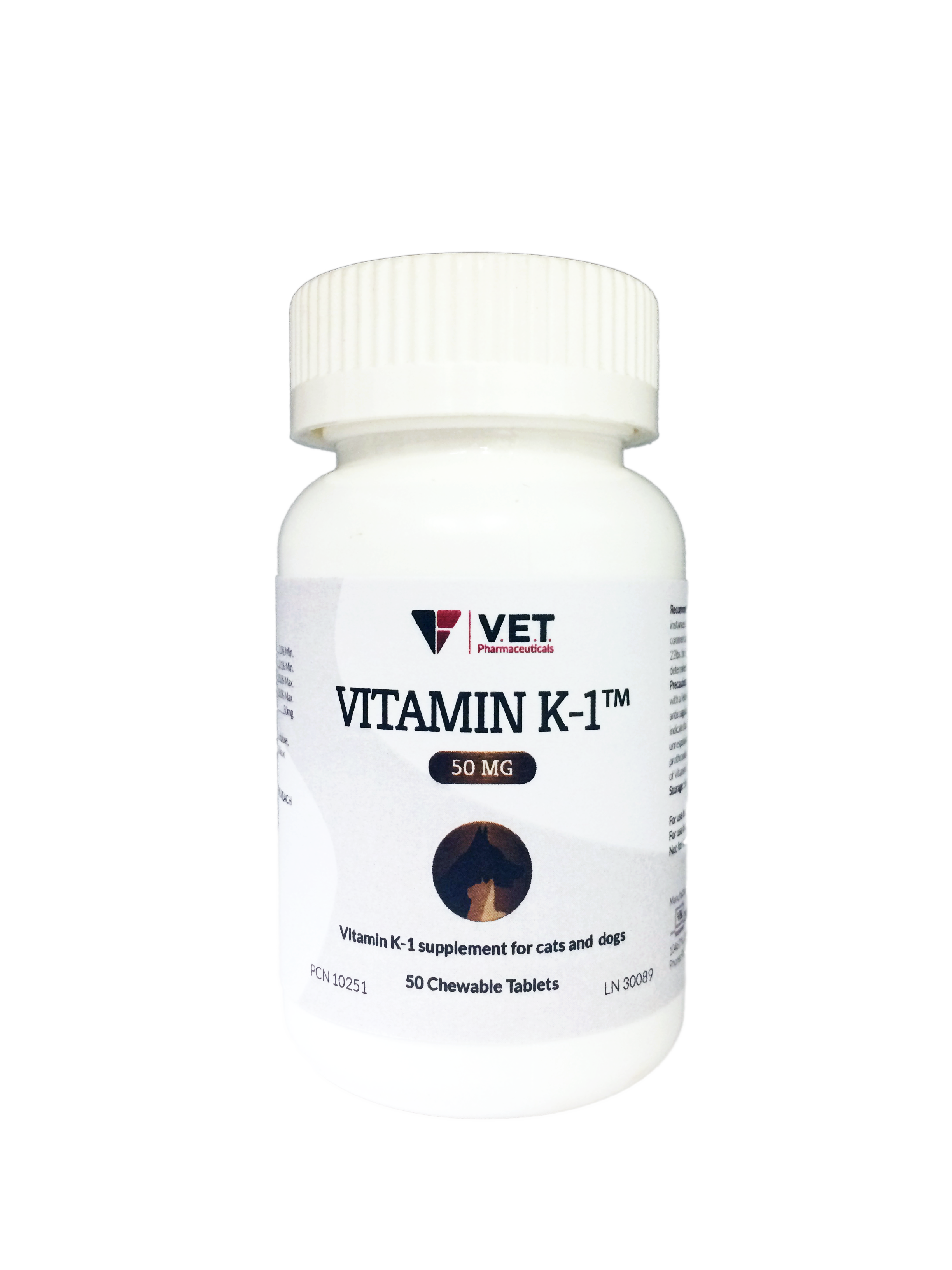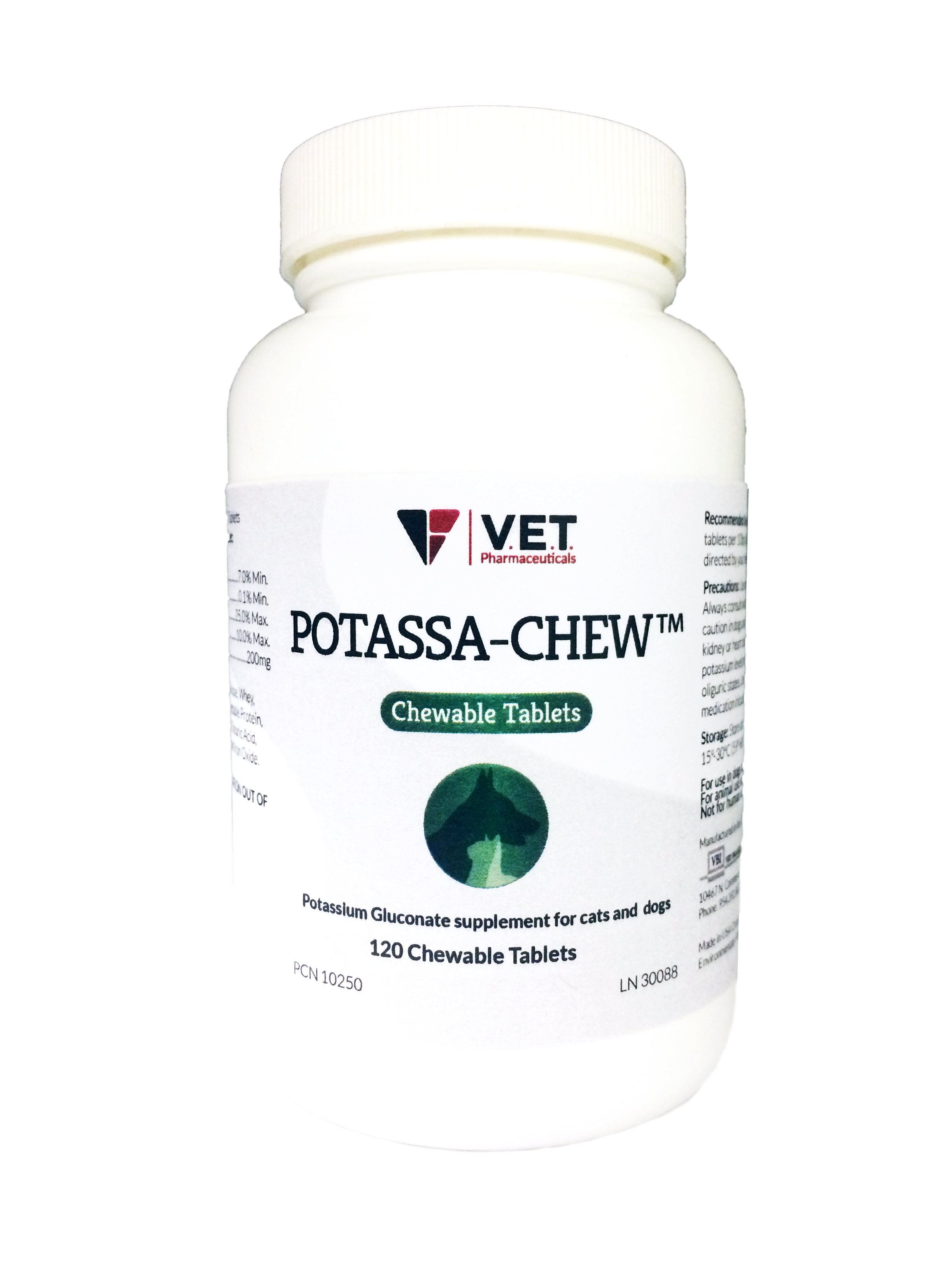 POTASSIUM GLUCONATE
Potassium Gluconate is often used as a supplement in cases of potassium depletion (hypokalemia). Potassachew provides a safe, effective oral supplement to increase potassium levels in dogs and cats. As long as the animal is urinating normally (not obstructed) excess potassium is typically secreted out via the urine. Do not supplement in cases where bladder or urinary obstruction are a concern.
Potassachew is a palatable chewable tablet that can be fed free choice or crumbled and mixed with the pets existing diet.
Potassachew provides a safe oral supplement that is easier to administer than messy powders or gels resulting in increased compliance.
For every pet that uses Potassachew there is one less client that has to 'pill' their pet.
Available in 120 Count Bottles

For product samples and pricing information please contact:
Chase Brown
Director of Sales
(305) 807-3323
Healthy Pet Products

100%

Better for Your Pet

100%

Low Prices!

100%

Healthy Pet Products

100%

Better For Your Pet

100%

Low Prices!

100%
Mike Finley
Corporate Accounts Manager
(952) 992-0656
Healthy Pet Products

100%

Better For Your Pet

100%

Low Prices!

100%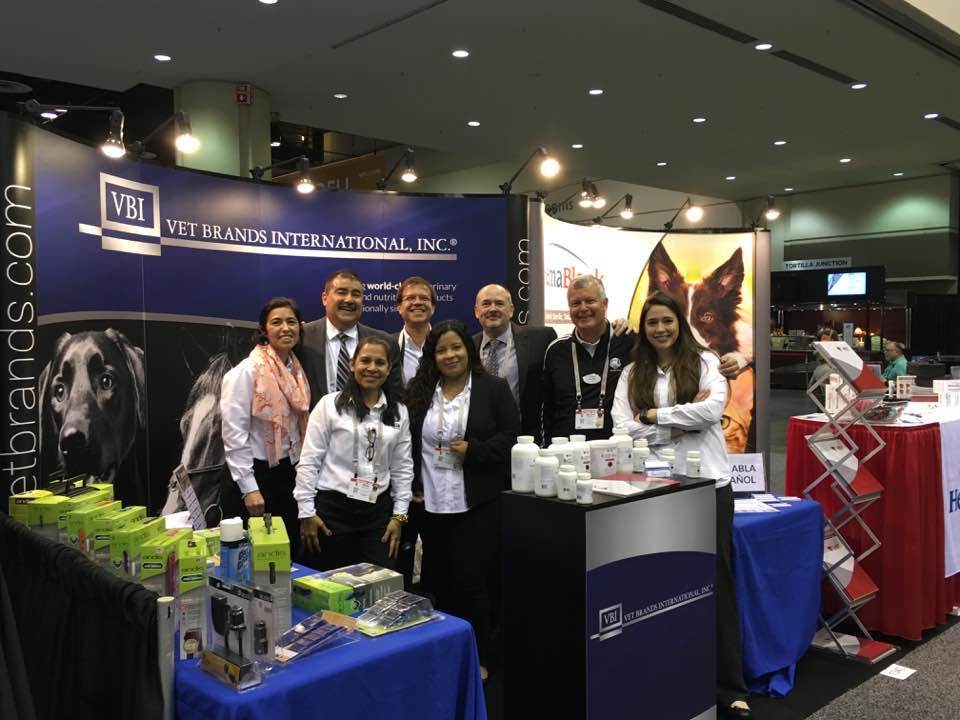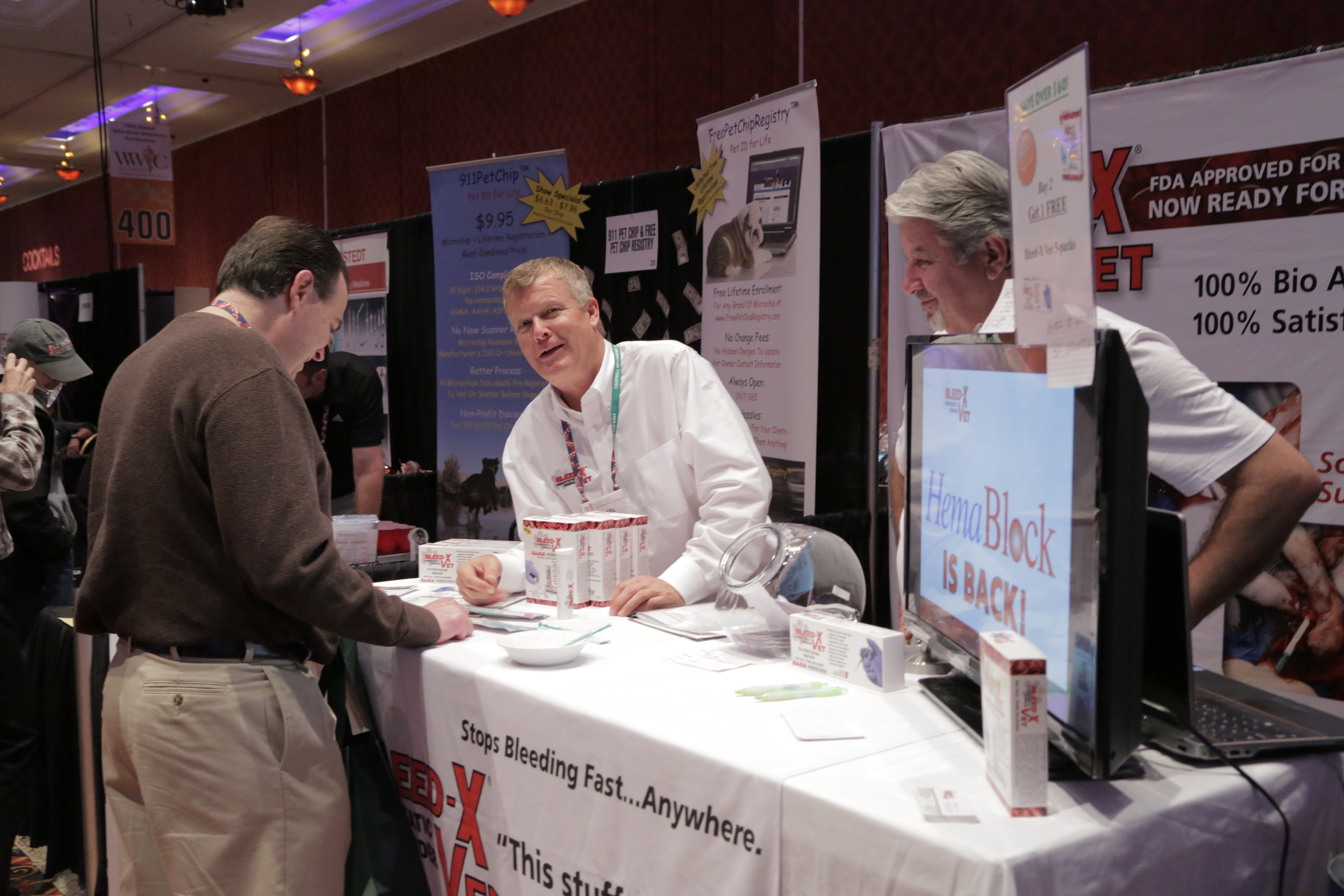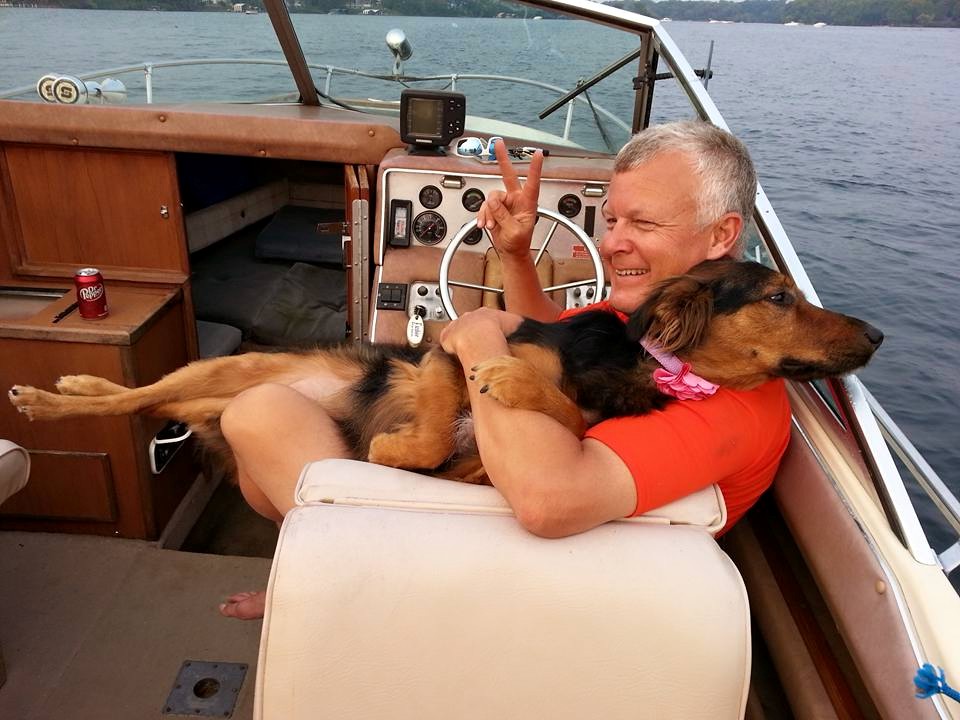 Learn more about how EPIZYME can deliver quality critical care for the pets you love
To have a sales representative call you--Please fill out the form below and click submit!